Boat Club Manager
Boat Club Articles & Links
Marina Dock Age©

" Innovative New Software "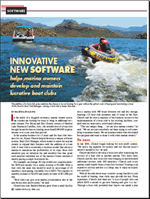 April 2008 Issue
Marina World ©
" Club management scheme
boosts marina revenues "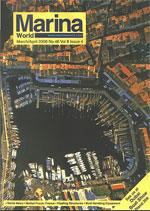 March/April 2008
No. 48 Vol 8 Issue 4


Boat Club Manager Program Bundle and Pricing
Traditional boat club programs require you to invest $25,000 to buy into the program plus 5% of your annual gross sales. That's not the worst part; you don't even own the business. You're a franchisee required to perform under the rules and regulations of the corporate headquarters. In other words, they dictate to you what can and cannot be done for your marina with the boat club.
Now there's a better alternative. Here's how you can get Boat Club Manager.
Boat Club Manager is a complete boat club management program designed for marinas to offer an easy-to-manage membership based boat club. It is designed to compliment your existing marina operation, not replace it.
It is the easiest to use boat club management program out on the market. You can literally be reserving orders and taking payment within the hour, instead of weeks. Boat Club Manager is web based, which means, you always have the latest updates, instead of buying another version.
What's Included:
Boat Club Manager Software




Web Based Reservation Software includes 12 Month Service Agreement
45 Day Training / Set-Up Consultation
Web Based Reservation Software Technical Support
Free Software Updates

Discount Upgrades When Available

Inigration of Your Website Design w/ Your BCM Account



Personalized Consulting




Private Tour of Bartlett Lake Marina boat club
Recommended Insurance Provider and Cost Estimates
Business Structure
Boat Negotiating Techniques
Boat Club Pricing Consultation

Website & Internet Advertising Consulting




Boat Club Contracts




Generic Boat Club Contract*
Generic Rental Contract*
Reservation Check-in & Check-out Sheet

*All contracts are required to be reviewd & edited by a lawyer to reflect your state, city, county & water-way laws and regulations before being added to your BCM account.



Marketing




One Year Boat Club Consultation-How to Set-Up, Promote & Grow Your Club
Proven Marketing, Sales and Promotion Letter
Custom Website Designs Up-sell



Monthly Fees




General Software Maintenance

Scalable Member Based Fee