Boat Club Manager
Boat Club Articles & Links
Marina Dock Age©

" Innovative New Software "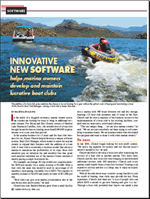 April 2008 Issue
Marina World ©
" Club management scheme
boosts marina revenues "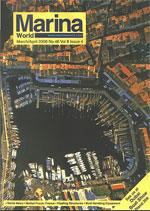 March/April 2008
No. 48 Vol 8 Issue 4


Make An Extra $150,000 in Profits Annually In Your Marina By Using This Proven Program Developed By A Marina Owner In Arizona.
It's 9 Times Faster To Implement, Cost 2/3 Less Than The Leading Program In The Market and Comes With A Lot More Extras!
Boat Club Manager is a complete boat club management program designed for marinas to offer an easy-to-manage membership based boat club. It is designed to compliment your existing marina operation, not replace it.
It is the easiest to use boat club management program out on the market. You can literally be reserving orders and taking payment within the hour, instead of two weeks. And it's web based so you always have the latest updates, instead of buying another version. Plus you can promote and use the program any way you see fit.
Features and Benefits of Boat Club Manager:
Make money in your sleep with 24/7 on-line customer reservations
Safe guard against market downturns with a reliable and consistent stream of income
Add another profitable stream of income to your existing business—does not interrupt current business
Imagine having year round revenues
Web based software gives you the latest updates and allows you to manage the boat club from anywhere in the world with Internet access.
Discover shortcuts, proven techniques and avoid common pitfalls with personalized consultation
Learn hands-on the idiosyncrasies of a boat club with a private tour of Barlett Marina boat club
Save thousands in boat costs by learning these simple negotiating techniques with boat dealers
Bypass common boat club headaches by copying scientifically proven techniques, processes and procedures
Insurance consultation for protecting your boat club investment
Instantly generate new customers by promoting your new services on the web
Find out how to maximize your profits in your market with secret pricing techniques
Start protecting yourself with customizable legal contracts and check-off lists
Get insider secrets on promoting and growing your boat club
Access proven marketing, sales and promotion letters
Easiest to use boat club management program out on the market