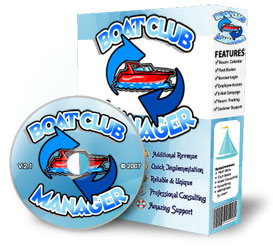 Rental Manager™
is Now Operational
Rental Manager™ has been running Live at Bartlett Lake Marina™ with over 50 on-line reservations taken monthly. Request a demonstration and test it for yourself.
A Revolution Has Started
With the intoduction of Rental Manager™ the creation of a profitable boat club has been made even easier and more cost effective. Rental Manager™ allows you to use your current rental fleet as a boat club fleet by managing both simultaneously. It is also a stand-alone On-Line rental boat manger w/ all the same features as Boat Club Manager™.
We are very excited over this new software package & what it means to the future of the marina industry. Request a demonstration and test it for yourself.
Our Story
Like many marina owners, the Church's were looking for something that could provide a generous profit center, an easy to manage program that can be implemented into their current marine business and introduce new boaters into the industry. On top of this, they wanted their marina to remain the main business.
Bryan Church formed a research and development team with marina veteran Eric Church and talented programmer, Ryan Kinnear.
After five years of research, headaches, and victories the Boat Club Manager™ was born. It proved profitable from the start and every year after that. They discovered a hidden gold mine for marinas...and just needed the right tools to mine out profits more efficiently.
Each year, many exhausting improvements were made. Better time saving tools were incorporated. Faster revenue generating methods were learned. Management became easier as they sorted out what works best. In other words, the Boat Club Manager™ had proven to be a consistent and reliable revenue stream.
Here's what it's all about. Boat Club Manager™ is a complete boat club management program designed for marinas to offer an easy-to-manage membership boat club. It is designed to complement your existing marine operations, not replace it.
Boat Club Manager™ is the easiest to use boat club management program out on the market. You can literally reserving orders and take payments within the hour, instead of weeks. And it's web based, so you always have the latest updates, instead of buying newer versions or installing timely & potentially harmful updates.
Boat Club Manager™
Boat Club Manager™ is not only a software solution, it is an entire turn key boat club business solution consisting of business consulting, print marketing, internet marketing w/ website & our internet based software. This allows you to expand your marina business immediately while taking advantage of our years of experience and knowledge. We have created a true "turn key" boat club business.